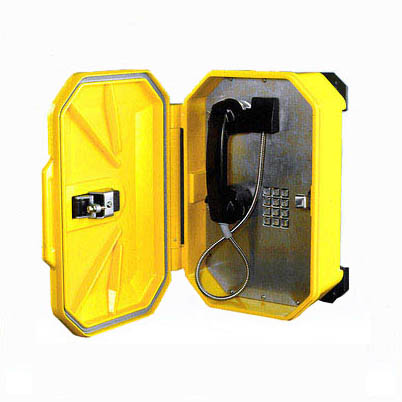 Model 626GV700
Hazardous Area Telephone

FEATURES:

• Metal keypad for extended life
• Circuit boards encapsulated in epoxy resin to be impervious to water and condensation
• A magnetic reed hook-switch to reduce the number of moving parts subject to wear
• Electret noise-cancelling microphone
• Surge arrestor
• A service temperature range from -50 to +50C (-58 to +122F)
• Water proof connections with rust proof, stainless steel fittings
• Mounting plate
• Armored handset assembly

DESCRIPTION:

GV700 has been designed to provide dependable service in Hazardous areas. In addition, to being certified for use in Division 2 applications, the GV700 has a 4X rating which makes it ideal for use in offshore or corrosive environments. The GV700 is housed in a rugged urethane enclosure and comes with a spring loaded locking door and armored handset assembly.