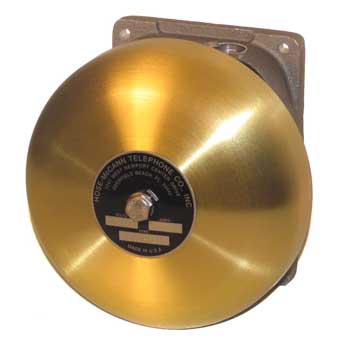 The Hose-McCann 96UA series watertight, vibrating, underdome bell has been designed primarily for use in the general alarm system. All 96UA Series bells are ABS approved and USCG accepted.

The bell enclosure is manufactured with a lightweight, high corrosion-resistant aluminum alloy (Almag-35). The bell is available in 6, 8, or 10-inch steel or brass. Hose-McCann can provide a wide variety of alternating and direct current (AC / DC) voltages and a low drain coil upon request .

The 96 Series Bell replaces the UATV & UDTV Series Bells. Motor assemblies for all bells are available by specifying model of bell & voltage.


General Alarm Bell
115 VAC
10" Brass Gong
Watertight underdome construction

ABS approved

USCG Accepted



Gongs available in baked enamel steel or natural finish brass

Gongs available in 6, 8, & 10 inches

A wide variety of AC & DC voltages available

To order, please specify gong size, gong type (steel or brass) & AC or DC voltage.




Gong Material-Brass
Gong Size-10"
Power-AC
Voltage-115