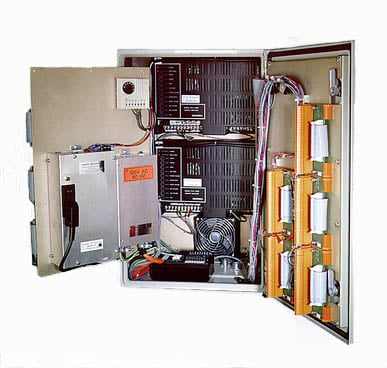 HM-ICSC-1338 SERIES MARINE PUBLIC ADDRESS / TALKBACK / ALARM SYSTEM
The HM-ICSC-1338 Integrated Public Address, Talkback and Alarm Signal System is an innovative step forward in marine interior communications. Advanced electronics and decades of design experience have combined to produce a compact, lightweight yet reliable system offering unparalleled functionality and flexibility for a broad range of commercial and military vessel applications.
Highly modular in design, HM-ICSC-1338 systems may be configured for up to 150 watts of operating power PA output with 150 watts "hot stand-by" back-up across up to eight addressable zones. Up to eight individual PA speakers may also be designated as talkback stations, permitting two-way communications between bridge or MCR and key crew locations. Up to four handset-based "direct line" stations can also be connected to the system.
Up to four alarm signals may also be enabled and prioritized for broadcast when needed through the public address system. With an optional card, redundant alarm signal as well as electronic fog signal capability can be included. Reliable digital tone sequence storage and generation allows virtually any fog signal or alarm signal tone or sequence to be implemented. With an optional redundant power supply module added, complete achievement of "virtual redundancy" needed to meet emergency PA and general alarm system regulatory requirements is possible.
Typical Vessel applications

Offshore supply vessels and other workboats
Military and coast guard patrol vessels
Tankers and product carriers
Small and medium passenger and vehicle ferries




System Highlights

Bulkhead mount dust and moisture proof positive-pressure ventilated cabinet with latching door and shockmounts
Up to 150 watts PA output with 150 watts "Hot" Standby Amplifier and up to 8 addressable zones
Supports 8 talkback speaker locations and 4 direct lines to handsets
Control station options ranging from basic telephone unit to mic-based control station or controlhead
Simple, modular layout for easy field installation and repair
All field wiring termination in-cabinet
Wide range of speakers and ancillary devices available




Configurations and Spares Options

Complete system packages may be ordered according to vessel requirements. Options in basic systems include choice of of master control station (standard telephone, mic-based control station, integrated controlhead unit) and optional dial telephone system interface module.

Specifications

Enclosure:
Material
Sheet Steel, baked enamel finish
Height
23.62" (60.0 cm)
Width
14.96" (38.0 cm)
Depth
13.78" (35.0 cm)
Weight
135 lbs. (61.4 kg) approx.
Environmental:
Dust/Moisture
NEMA 4/12, IP 66 rated
Humidity
15-90% non condensing
Main Equipment Cabinet to be installed in an Air-Conditioned environment
Electrical:
Power In
115 VAC, 50/60 Hz5 Amps max at 115VAC
Audio Out
150 W max (RMS) (150 W back-up)
Terminations
Screw terminals (50 per card) 14 AWG max, in-cabinet