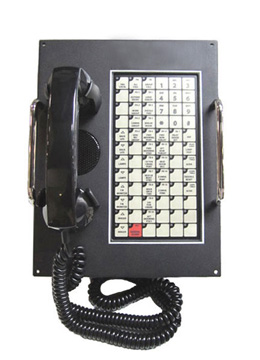 Controlhead - Intelligent Digital Control Center Interior Flush Mounting
The HM-IDCH-7200 Intelligent Digital Controlhead is a flush mounted, modern microprocessor controlled station unit providing bridge users with centralized access to multi-line telephone, public address, loadhailer, talkback, radio, satellite and cellular communications systems. Control of fog and alarm signals as well as other functions is also possible through the array of multi-function keys provided.
User control elements include a monitor speaker, standard telephone handset and a touch tone keypad contained within a sealed membrane multi-key array. Individual Controlheads may be connected in parallel to facilitate distributed access to various systems and functions at key locations. Bulkhead mountable enclosure is an available option.
Primary input to the ship's announcing system
AllCall and Page Zone Pushbuttons
Alarm Signal and Fog Activation Pushbuttons
Shoreline Transfer Incoming / Outgoing
Call Hold / Transfer / Conference
Direct Line Control
Shoreline Exclusion
Illuminated Membrane Keypad with Power Saver Feature
Automatic Fault Diagnostics and Lamp Test Functions
Adjustable Speaker Volume and Backlighting
Spare Pushbuttons for Future Functions



Specifications

Material:
Face Plate
14 ga. CRS
Dust Cover
18 ga. CRS
Finish
Textured Black Baked Enamel
Dimensions:
Height
13.0" (33.0cm)
Width
10.0" (25.4cm)
Depth
6.5" (16.5cm)
Weight
15lbs (6.8kg) Approx.