NSN: 6210-01-436-9471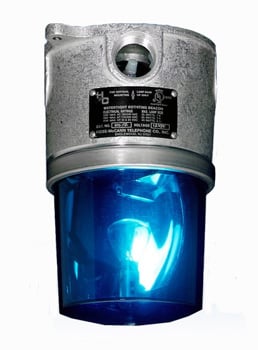 HMC 870 Series Watertight Rotating Beacon Lights

Using state-of-the-art materials, such as Lexan plastic and Almag-35 aluminum allow, Hose-McCann has designed a signaling device that combines excellent visibility with lightweight yet rugged construction.

These UL Listed Rotating Beacon Lights feature a high intensity light that rotates 360 degrees. The watertight HMC870 Series is available in box or pendant mountings.


UL listed
ABS type approved
Water & Vapor tight construction
120 VAC
Blue Dome
Box Mounted
Net weight - 5 lbs
High Corrosion-resistant aluminum alloy



Box or pendant mounting
The Lexan domes are available in red, blue, green, amber, or clear
Low drain 12 & 24 VDC/120 & 220 VAC

Replacement domes, bulbs & motor replacement kits available. Please specify voltage & color.

Data sheet available at the "Support Materials Available!" link below.