NSN: 6350-01-428-7507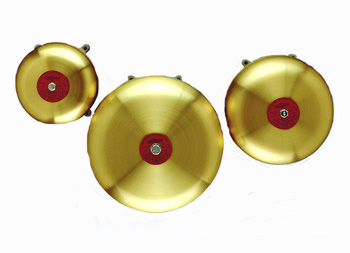 The new Hose-McCann HL Series Hazardous Location General Alarm Bells offer both energy efficiency and cost savings. It Is UL Listed for use in Class 1 , Division 2, Groups A,B,C, and D Hazardous Locations. The HL Series Bells are housed in a lightweight, high corrosion-resistant aluminum alloy (Almag-35), and available in three gong sizes: 6,8, and 10-inch diameters. Gongs are available in steel or brass, and a wide selection of voltages is available in direct current.
The low drain HL Series Bell has been designed to minimize the ampere capacity and physical dimensions of the batteries required to operate the general alarm system. The resulting energy savings will reduce the size and current capacity of the cable required for the ship's general alarm system.
8" Steel Gong
115 VDC
UL listed Class 1, Division 2, Groups A,B,C & D
ABS type approved


Available in 12, 24, 115 VDC
Available in 6, 8 & 10 inches
Availble in baked enamel steel or natural finish brass

To order, please specify the type of gong (steel or brass), gong size & voltage.

Data sheet available at the "Support Materials Available!" link below.
Gong Material-Steel
Gong Size-8"
Power-DC
Voltage-115