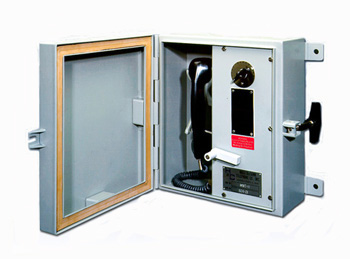 MODEL MWTH - Watertight Sound-Powered Telephone

Hose-McCann is the originator and pioneer of Sound Powered Telephone Systems especially designed for marine use. The Sound Powered Telephone System is engineered to operate via a single energy source, the sound of the human voice. Special design techniques and internal configuration enable this unique system to function without the use of any outside sources of current.

Watertight models are housed in a stainless steel enclosure and include all the features of the Backlit System, thus enabling optimal reliability in any marine environment.


24 Station
6" Bell
Watertight
14 Gauge Stainless Steel
Bulkhead Mounted
Grey Baked Enamel Finish
NEMA 4X Rated Enclosure
Dimensions: H 14" X W 12" X D 6-5/8"
Telephone Handset Equipped with a 1'- 6' Retractable Coiled Cord
Provisions Have Been Made for Mounting the Bell on Top of enclosure or at a Remote Location if Required.
Internal Heaters
US Coast Guard Accepted for Use in Outdoor Locations
ABS Approved


Bell Gongs are also Available in 8" & 10"
Pedestal Mountings
2, 8, 12, 19, and 24 Station Capability
12, 18, or 25 ft. Extended Length coiled cord

Data sheet available at the "Support Material Available!" link below.
Indoor / Outdoor-Outdoor
Number of Stations-24
Signaling Device-6" Bell