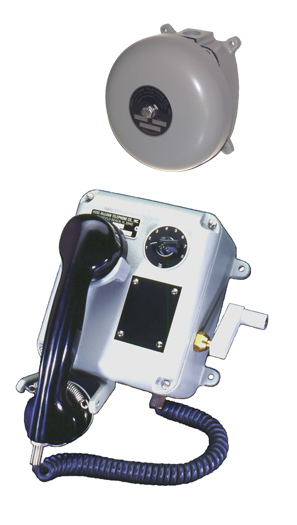 Model SE - Sound powered Telephone

Sound Powered Telephones are designed to provide communications without the use of batteries or other outside sources of current. The United States Coast Guard considers Sound-Powered Telephones to be the most failsafe method of communication and supports its mandatory presence on all marine vessels.


12 Station
6" External Bell
Bulkhead Mounted
With Jack
ABS Type Approved
USCG Accepted - Approval No. 161.005/52/0
All Phones Equipped With a 1' to 6' Retractable Coiled Handset Cord (additional lengths are available)


2, 8, 12, 19, and 24 stations available
Bell Gongs are also available in 8" and 10"
Telephones may be ordered with modifications such as headsets, jacks, or extended cords.

Suggested Locations: Moderately Noisy Areas



Dimensions

Overall Dimensions:
Length
11" (27.94cm)
Width
8.5" (21.59cm)
Depth
7.0" (17.78cm)
Net Weight
10 lb. (4.54kg*)
Mounting Dimensions:
Vertical
7.5" (19.05cm)
Horizontal
4.875" (12.54cm*)



Note: Metric measurements followed by an asterisk (*) have been rounded to the nearest hundredth.

Data sheet available at the "Support Materials Available!" link below.
Indoor / Outdoor-Outdoor
Number of Stations-12
Signaling Device-6" Bell