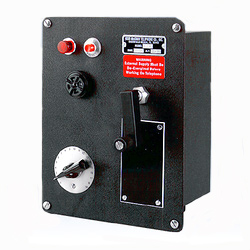 SPT, 19 STA, NO BELL, LATCHING RELAY, INTERNALS COVER MOUNTED

MODEL SEMLR
Standard-Model Sound-Powered Telephone

Console or wall mounting, Piezoelectric signaling device, Non-Latching Relay, no Bell; All components are mounted on cover.

Suggested Locations: High noise areas where visual indication is also required.

Overall Dimensions:

Length 9.5" (24.13cm)
Width 7.5" (19.05cm)
Depth 5.0" (12.70cm)
Net Weight 11lb (4.99kg*)

Mounting Dimensions:

Vertical 8.75" (22.23cm*)
Horizontal 6.75" (17.15cm*)

Bracket Housing:

Length 4.0" (10.16cm)
Width 3.25" (8.26cm*)

Bracket Mounting:

Length 3.25" (8.26cm*)
Width 2.50" (6.35cm)

Note: Metric measurements followed by an asterisk (*) have been rounded to the nearest hundredth.
Indoor / Outdoor-Indoor
Latching or Non-Latching Relay-Latching Relay
Number of Stations-19
Signaling Device-No Bell