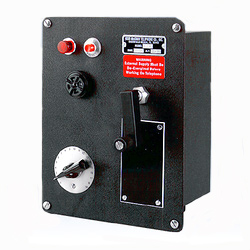 SOUND POWERED TELEPHONE

Sound Powered Telephones are designed to provide communications without the use of batteries or other outside sources of current. The United States Coast Guard considers Sound-Powered Telephones to be the most failsafe method of communication and supports its mandatory presence on all marine vessels.

STANDARD FEATURES:

• 2, 8, 12, 19, and 24 Stations (Standard)
• ABS Type Approved
• USCG Accepted
• All Phones Equipped With a 1' to 6' Retractable Coiled Handset Cord (Standard) (additional lengths are available)
• Bell Gongs are also available in 8" and 10"
• Telephones may be ordered with modifications such as headsets, jacks, or extended cords.

MODEL SEMLR
Standard-Model Sound-Powered Telephone

Console or wall mounting, Piezoelectric signaling device, Non-Latching Relay, 6" External Bell; All components are mounted on cover.

Suggested Locations: High noise areas where visual indication is also required.

Overall Dimensions:

Length 9.5" (24.13cm)
Width 7.5" (19.05cm)
Depth 5.0" (12.70cm)
Net Weight 11lb (4.99kg*)

Mounting Dimensions:

Vertical 8.75" (22.23cm*)
Horizontal 6.75" (17.15cm*)

Bracket Housing:

Length 4.0" (10.16cm)
Width 3.25" (8.26cm*)

Bracket Mounting:

Length 3.25" (8.26cm*)
Width 2.50" (6.35cm)

Note: Metric measurements followed by an asterisk (*) have been rounded to the nearest hundredth.
Indoor / Outdoor-Indoor
Latching or Non-Latching Relay-Non-Latching Relay
Number of Stations-8
Signaling Device-6" Bell