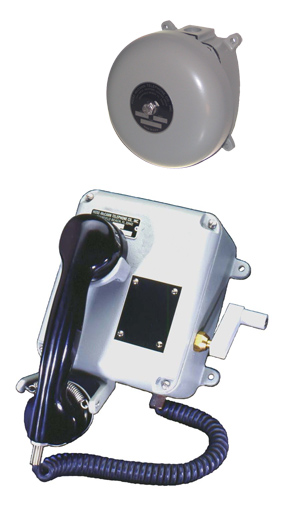 SOUND POWERED TELEPHONE

MODEL SE-R
Standard-Model Sound-Powered Telephone

Wall mounted with 8" external bell and non-latching relay

Suggested Locations: High Noise Areas that are not normally manned

USCG Approval: No. 161.005/53/0

Overall Dimensions: Length 11" (27.94cm)
Width 8.5" (21.59cm)
Depth 7.5" (19.05cm)

Net Weight: 10 lb. (4.54kg*)

Mounting Dimensions:

Vertical 4.875" (12.38cm*)
Horizontal 7.0" (17.78cm)

Note: Metric measurements followed by an asterisk (*) have been rounded to the nearest hundredth.
Indoor / Outdoor-Indoor
Latching or Non-Latching Relay-Non-Latching Relay
Number of Stations-2
Signaling Device-8" Bell