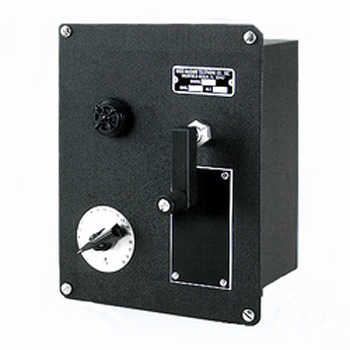 SPT, 19 STA., 3" INT. RINGER NON-LATCHING RELAY, FLUSH MTD.

MODEL SFR-PBC
Standard-Model Sound-Powered Telephone

Console or panel board mounting with a 3" internal bell, and with a non-latching relay. Handset bracket and handset are separately mounted.

Suggested Locations: Low noise areas

USCG Approval: No. 161.005/68/0

Overall Dimensions:

Length 9.5" (24.13cm)
Width 7.5" (19.05cm)
Depth ????

Net Weight: 11lb (4.99kg*)

Mounting Dimensions:

Vertical 8.75" (22.23cm*)
Horizontal 6.75" (17.15cm*)

Bracket Housing:

Length 4.0" (10.16cm)
Width 3.25" (8.26cm*)

Bracket Mounting:

Length 3.25" (8.26cm*)
Width 2.50" (6.35cm)

Note: Metric measurements followed by an asterisk (*) have been rounded to the nearest hundredth.
Indoor / Outdoor-Indoor
Number of Stations-19
Signaling Device-3" Ringer