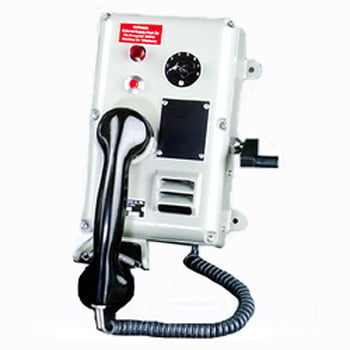 SOUND POWERED TELEPHONE, 19STA 115VAC, W/4'-25' COILED CORD

MODEL SWLR-PB
Standard-Model Sound-Powered Telephone

Wall Mounted with 3" internal ringer, internal latching relay (specify voltage), indicator light and pushbutton reset.

Suggested Locations: Low-noise areas, and where more than one phone is located.

USCG Approval: No. 161.005/66/1

Overall Dimensions:

Length 14" (33.02cm)
Width 8.5" (21.59cm)
Depth 7.5" (19.05cm)

Net Weight: 10 lb. (4.54kg*)

Mounting Dimensions:

Vertical 7.375" (18.73cm*)
Horizontal 7.0" (17.78cm)

Note: Metric measurements followed by an asterisk (*) have been rounded to the nearest hundredth.
Indoor / Outdoor-Indoor
Latching or Non-Latching Relay-Latching Relay
Number of Stations-19
Signaling Device-3" Ringer