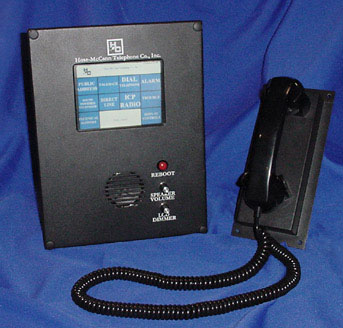 EPICenter For Integrated Communications
Interior Flush Mounted Unit - Touch Screen Activation / Display

FEATURES:

• Centralized Access via Interactive Touch Screen Menus to the ICP Communications Network:
> Standard Automatic Dial Telephone System
> VoIP Telephone System
> Public Address System
> Talkback System
> General Alarm / Fog System
• Password Protection of Administrative Functions
• Trouble/Event Logging Features
• Automatic Fault Diagnostics with Trouble Reporting
• Adjustable Speaker Volume and LCD Backlighting
• Distributive Architecture using LAN based hardware
• Fully Customizable Graphic User Interface

Available Options:

• Environmental enclosure for Outdoor Use
• Boom Mic with Foot-pedal Activation
• Various console mounted or standalone LCD touch screen sizes available

DESCRIPTION:

The EPIC is the Epicenter of the Hose-McCann ICP, Integrated Communications Platform, which provides users with centralized access to multiple communications systems on a vessel via Interactive Touch Screen Menus. Touch Screen Menus lead the user from one function to the next in a series of fully customizable graphics. The unit integrates telephony and computer-based technology while retaining the same auto-fault characteristics of the Hose-McCann Integrated Public Address / General Alarm Systems, providing trouble alarms for system failure. This single unit design saves cost and space of installing separate control panels for individual communication systems.

Security features are available as programmable options. Password protection can be used to lockout certain functions from unauthorized personnel. Inherently, the EPIC retains a trouble fault and event log, which can be used to track and maintain system integrity.

Standard user control elements include a telephone handset, monitor speaker, touch screen display and volume control. The hardware and software can be customized to suit specific applications. Alternate housings, monitor displays and microphone/handset options are available.

EPIC SPECIFICATIONS (RETRO-FIT MODEL):

MATERIAL: Face Plate - 14 ga. CRS
Touch Screen - 6.4" High Resolution Color LCD Display
5-Wire Resistive Panel

FINISH: Textured Black Powder Coated

DIMENSIONS: 13.0" (33.0cm) H x 10.0" (25.4cm) W x 10.0" (25.4cm) D

WEIGHT: 15lbs (6.8kg) Approx.